Past Events
NIDDK Central Repository 20th Anniversary Workshop: Promoting Secondary Research to Accelerate Medical Breakthroughs and Innovation
September 19-20, 2023
The workshop sessions are to highlight secondary use research that utilized resources generated from NIDDK-funded clinical research projects, review NIDDK's Data Ecosystem past, present, and future, and launch a data challenge platform as part of the program's vision for the future.
---
Biostatistics Seminar Series
Fall 2023
TraCS Biostatistics Seminar Series (4 sessions, each fall semester)
The TraCS Biostatistics Seminar Series helps clinical and translational researchers collaborate more effectively with consulting biostatisticians by building deeper understanding of key statistical concepts and methods. Researchers then are better able to:
evaluate relevance of the concept or method for research aim(s) definition and choice of study design
properly interpret the results of data analysis
Our target audience includes clinical and translational scientists who are or will be Principal Investigators leading interdisciplinary research teams that include biostatisticians as team members or consultants.
The series comprises four webinars that build on topics covered in typical introductory statistics courses while highlighting issues and themes that often arise between clinical and translational researchers and consulting biostatisticians in applied research contexts.
We regularly draw attendees from the schools of Medicine, Public Health, Nursing, Pharmacy, Dentistry; elsewhere across the UNC campus; and from our CTSA partners N.C. A&T and NC State University.
---
NC TRIO POD
March 3, 2023 at 12pm
---
NC KUH TRIO TOWN HALL 
Leading with Conflict
October 6, 2022 at 12pm EST
Dr. Amy Wallis, Wake Forest School of Business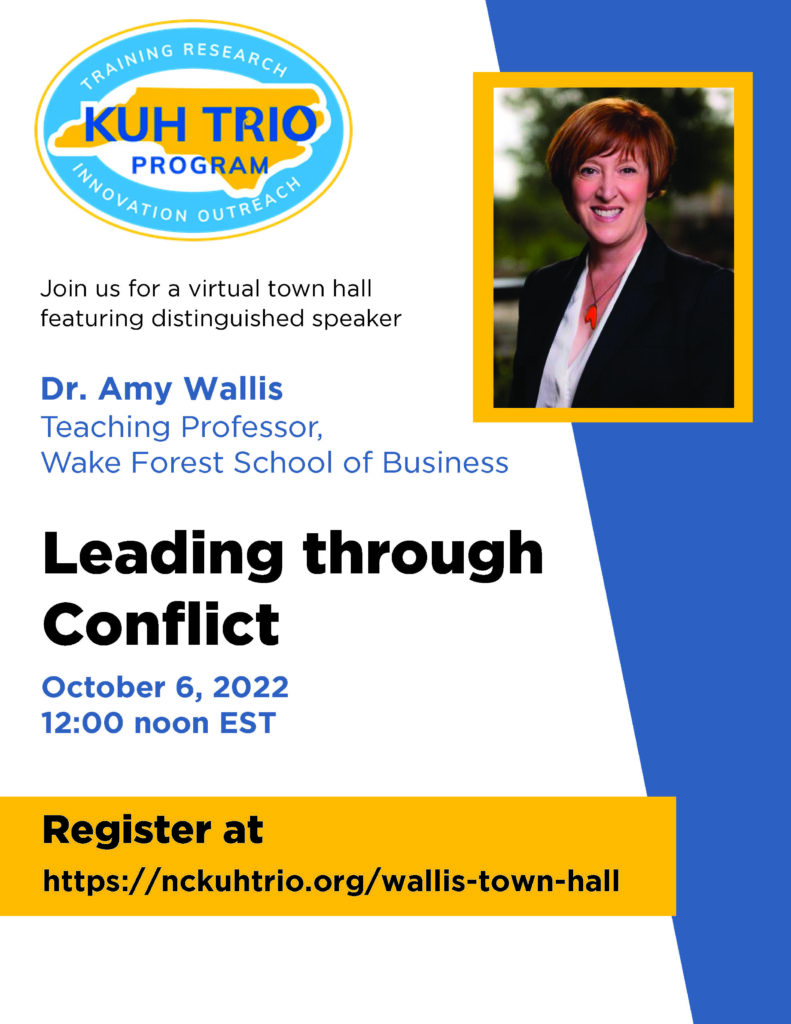 Dr. Amy Wallis is a Professor of Practice at the Wake Forest University School of Business. As an organizational development leader and academic professional, Amy's teaching and expertise are in leadership, ethics, organizational behavior, team development, and change management.
Amy has been coaching and teaching in organizational contexts for over 25 years. She has led human resources and organizational development initiatives in various corporate environments focusing on performance management, change management, succession planning, and executive development. She has served as chief human resources officer for Sunbelt Solomon, a company in the electrical industry; director of workplace learning and development at American University; organizational learning consultant with Development Dimensions International; and talent and performance management lead at Welch Allyn, a medical device manufacturer.
Amy has consulted with organizations in many industries, including travel, manufacturing, construction, high tech, pharmaceutical, professional services, health care, banking, and the non-profit sector. She has coached a wide array of professionals in multiple settings and facilitated leadership development and change management processes in numerous organizations. Her current work is focused on creating and evolving organizational culture, leveraging talent, and performance accountability.
---
NC TraCS Biostatistics Seminar Series
The NC TraCS Biostatistics Seminar Series provides in-depth discussion of select biostatistical topics for clinical and translational researchers who have basic quantitative training in biostatistical methods. Join us this fall for seminars on power analysis & sample size planning, parameter interpretation in generalized mixed regression models, basic steps in questionnaire development, and choosing the right graphs and tables for your data.
---
Friday, September 2 at 10:30 a.m. – Power analysis & sample size planning
Last year, the TraCS Biostatistics team hosted an introductory overview of power analyses. This talk is offered as a follow-up presentation, giving more varied information about sample size planning. Emphasis will be given to different kinds of sample size estimation for different situations, the notion of effect size and how to estimate it, and some strategies to improve power.
Presenter: Jeff Laux, PhD
REGISTER: https://go.unc.edu/9bss
---
Friday, October 7 at 10:30 a.m. – Parameter interpretation in generalized mixed regression models
Non-linear link functions cause some difficulty in interpreting parameters in generalized mixed regression models. In this seminar, the presenter will cover the interpretation of both regression coefficients and variance components in generalized mixed regression models. Additionally, the seminar will explain why regression coefficients for within- and between-cluster covariates have different interpretations. Interpretation of variance components, within and between, will be covered. While the focus will be on logistic and log-linear models, the ideas covered in this seminar also apply to other link functions. Numerical examples will be presented.
Presenter: Bahjat Qaqish, PhD
REGISTER: https://go.unc.edu/10bss
---
Friday, November 4 at 10:30 a.m. – Basic Steps in Questionnaire Development
This seminar provides a discussion on the basic steps in the Devellis questionnaire development process. Topics covered include defining your construct(s) of interest, evaluation of existing scales, prior scale adaptation, item pool generation, scale format, and testing paradigms.
Presenter: Marcella Boynton, PhD
REGISTER: https://go.unc.edu/11bss
---
Friday, December 2 at 10:30 a.m. – Choosing the right graphs and tables for your data
There is a bewildering array of different kinds of graphs with conflicting recommendations for their use. For example, common advice is to always show 0 on the axis, but what do you do if your data doesn't include that value? How do you know the right way to plot your data? This seminar will cover principles you can use to understand ways of presenting data and decide what's best for your situation.
Presenter: Jeff Laux, PhD
REGISTER: https://go.unc.edu/12bss
Mentoring in Academic Medicine
Research Careers Ahead Professional Development Series
Office of Physician-Scientist Development present
Robert Lefkotwitz, MD discusses how to choose a mentor, as well as tips on mentoring.
Wednesday, August 24, 2022 at 4:00pm EST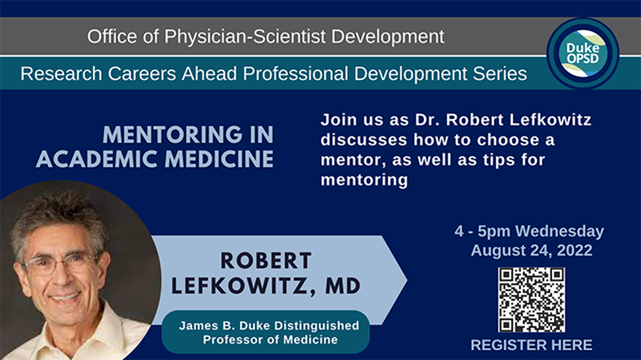 NC KUH TRIO TOWN HALL
Wednesday, August 17th at 1pm EST
Virtual Engagement of Trainees Across Institutions and Disciplines: The Trio Plan with Dr. Matt Sparks